Welcome to our Home
It is our aim to help you have a comfortable, relaxing and enjoyable stay. This is a modern bungalow, tastefully decorated. It is situated 5 miles away (on the A1079) from the Historic City of York with its Medieval Streets and Major tourist attractions.

The Bungalow is ideally situated for York Race Coarse, York University, Fulford Golf Coarse and the indoor shopping center McArthur Glen.

Off road parking is available, and you are within easy reach of some of the best Inns serving excellent evening meals:

The Grey Horse Inn at Elvington,
The Black Bull on the Hull road and
The Gold Cup at Low Catton, all only a short drive away.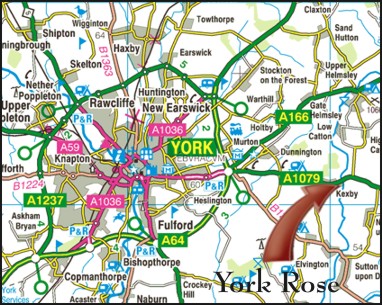 Lynne Sagar
York Rose Bed & Breakfast
The Bungalow, Kexby
YORK, YO41 5LA

Telephone: 01759 380247
Mobile No : 07808 590703
Email: info@yorkrose.co.uk